Danica Patrick wins Daytona 500 pole position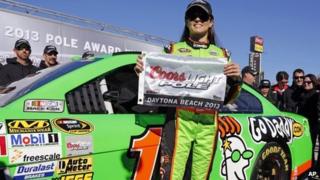 For the first time, a woman will start in pole position at Nascar's most prestigious race, the Daytona 500.
Danica Patrick, 30, qualified on the pole for the season's opening race next Sunday after completing a lap at 196.434mph (316.13km/h).
Patrick will start, in her No 10 Chevrolet, alongside four-time Nascar Cup champion Jeff Gordon, who qualified in second place.
The rest of the field will be set in two qualifying races on Thursday.
"I was brought up to be the fastest driver, not the fastest girl," Patrick said.
Making history
Thanking the team she works with, Patrick added: "I've been lucky enough to make history, be the first woman to do many things. I really just hope that I don't stop doing that. We have a lot more history to make."
Meanwhile, Gordon, who also topped 196mph, said: "It's great to be part of history.
"I think we all know how popular she is, what this will do for our sport. Congratulations to her. Proud to be on there with her."
Patrick has been driving in the IndyCar Series since 2005.
Earning pole position in Sunday's race becomes the latest achievement for a driver who has racked up a series of records over the course of her driving career.
Patrick became the first woman to lead a lap in the Indianapolis 500 in 2005, where she finished fourth.
She was the first woman to win an IndyCar Series race in Motegi, Japan, in 2008.