Montreal city hall raided by anti-corruption police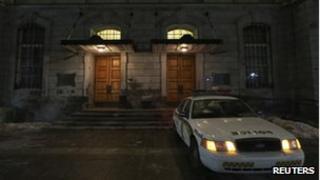 Montreal's city hall has been raided by anti-corruption police seeking evidence of fraud and breach of trust.
Other offices of the Canadian city and of Union Montreal, former Mayor Gerald Tremblay's party, were also raided.
Mr Tremblay and the mayor of Laval have both stepped down amid allegations related to the construction industry.
Further details on the targets of the inquiry were unavailable; A police spokeswoman said the raid was part of a two-year investigation.
As the raid started about 16:00 EST (21:00 GMT), all officials and staff were told to leave the building, though some were held back for questioning.
Anne-Frederick Laurence, spokeswoman for anti-corruption police squad Unite permanente anti-corruption (UPAC), said more than 120 officers took part in the search and that officials were planning to question 25 people, including politicians, in relation the investigation.
"No charges have been laid," she said.
Louise Harel, the leader of the Vision Montreal party, told the Montreal Gazette newspaper she believed it was the first time police ever had raided city hall.
"We wanted a big clean-up at city hall. Now that clean-up is starting and I have confidence in UPAC," she said. "I have confidence that they're working for good reasons, but I don't know what those reasons are."