Search widens for Las Vegas shooting suspect Ammar Harris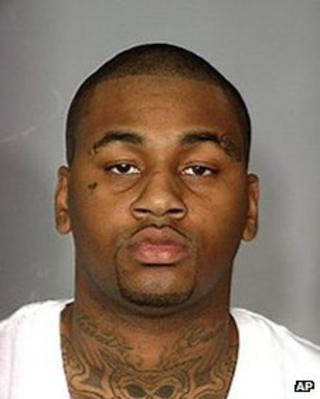 Police have widened the search for an ex-convict suspected of a pre-dawn Las Vegas shooting and multiple car crash that left three people dead.
Ammar Harris, 26, is thought to be the gunman who shot dead aspiring rapper Kenneth Cherry Jr on Thursday.
Harris' black Range Rover Sport was found parked in the garage of a gated block of flats on Saturday.
Police are now scouring south-eastern states after launching searches in Nevada, Arizona, California and Utah.
Cherry was killed at the wheel of his Maserati after the driver of a black Range Rover Sport opened fire at a red light in a busy section of the Las Vegas Strip, police say.
The Maserati then smashed into a taxi, which burst into flames, killing the driver and passenger inside.
The taxi driver has been named as Michael Boldon, 62, from Las Vegas, Nevada. The passenger was Sandra Sutton-Wasmund, 48, from Maple Valley, Washington state.
Harris has been described as a black male with brown hair and brown eyes, about 5ft 11in (180cm) tall and weighing about 180lb (82kg), according to a police statement.
Public records show he used to live in the states of South Carolina and Georgia.
In 2005, he was sentenced to three months in jail after being found guilty of marijuana possession by a court in Atlanta, Georgia. He was arrested in Miami in December last year for reckless driving.
He was also detained in Las Vegas last May over an incident that took place in June 2010. He was charged with robbery, sexual assault, kidnapping and coercion with a weapon, although records show that case was dropped.
"We can say with certainty that Ammar Harris is the suspect who fired the fatal shots," Las Vegas police captain Chris Jones told reporters on Monday afternoon.
Capt Jones added that the suspect should be considered armed and dangerous.
In total, six vehicles were involved in last Thursday's crash and several other people, including a passenger in the Maserati, were injured.
The shooting took place in the heart of Las Vegas' tourist area, near some of the most famous hotels on the Strip, including the Bellagio and Caesars Palace.
Police say the incident followed an altercation in the valet parking area at the Aria Hotel, a nearby hotel and casino. Authorities are still investigating whether Cherry and Harris knew each other.