US prison guard killed by inmate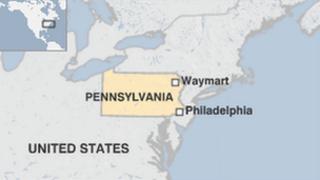 An inmate at a high-security Pennsylvania jail has killed a guard, the first time a federal prison officer has died at work in almost five years.
Eric Williams, 34, was attacked with a homemade weapon by an unnamed inmate.
Canaan prison officials would not say how Williams died on Monday night, but his sister said a coroner had told her he was stabbed multiple times.
The last time a federal officer died on the job was in June 2008 in California, according to the Bureau of Prisons.
Canaan prison warden David Ebbert said in a statement: "This is clearly the darkest day in our institution's short history.
"We are in shock over this senseless loss of a colleague and friend."
At least three inmates have been killed at the jail, which opened in 2005 in Waymart, Pennsylvania.
The federal prison, which is 20 miles (32km) outside Scranton, houses 1,350 male inmates.
Williams, who became a guard at Canaan in September 2011, was working in a housing unit on Monday night when the inmate attacked him, officials said.
Other prison staff restrained the attacker and Williams was brought to hospital, where he was pronounced dead shortly before midnight.
The prison was put on lockdown, officials said.
The dead man's sister, Lauren Williams, told the Associated Press news agency: "There wasn't a mean bone in him.
"He was not confrontational at all. He's never been in a fight.''
She said Williams had never reported any problems at work.
"He's already in jail," Ms Williams said of her brother's attacker. "How do you get your justice?"
Officials said an FBI investigation was underway into the death of Williams.