John Brennan CIA nomination moved forward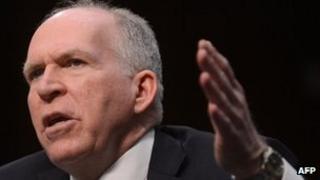 A US Senate committee has approved President Barack Obama's nomination of John Brennan to be CIA director.
The panel acted after the White House supplied secret legal memos about the use of drones to kill American citizens abroad in anti-militant operations.
Senate intelligence committee members had threatened to block the nomination if they could not review the memos.
Mr Brennan's nomination now goes to a vote in the full Senate, where he is expected to win confirmation.
The Senate intelligence committee forwarded his nomination in a 12-3 vote on Tuesday in a closed session.
He currently serves as Mr Obama's top counter-terrorism adviser. If confirmed, he will replaced Gen David Petraeus.
"I am pleased the administration has made this information available,'' Senator Dianne Feinstein, a California Democrat and chairwoman of the intelligence committee, said in an earlier statement acknowledging the White House had provided legal memos on the drone programme.
"It is important for the committee to do its work and will pave the way for the confirmation of John Brennan to be CIA director.''
The Obama administration had previously released just two of 11 justice department legal opinions to the committee hours before Mr Brennan's 7 February confirmation hearing. The panel had already received two others.
Senators argued they could not perform proper oversight without reviewing all the legal opinions related to the targeted killing of American citizens abroad by drones.
'Unique situation'
The Washington Post reported documents pertaining to the targeted killing of non-Americans were not part of the agreement.
White House spokesman Jay Carney said the administration worked with the committee "to meet to their concerns in what the president believes is a unique situation".
"We look forward to speedy confirmation of John Brennan," he said on Tuesday.
While Mr Brennan's nomination has been delayed, he has largely avoided a bruising nomination process like that experienced by Defence Secretary Chuck Hagel.
Mr Hagel was confirmed by a 58-41 Senate vote after Republicans stalled his nomination, questioning his past positions on Israel and Iran and his qualification for the job.
During his confirmation hearing in February, Mr Brennan was asked about the drone programme, which he helped oversee as a White House adviser, as well as his role in waterboarding - simulated drowning - during his previous tenure at the CIA.