Luka Magnotta in court accused of body-parts murder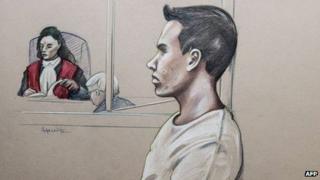 A Canadian former porn actor who is accused of killing and dismembering a Chinese university student has appeared in court.
The preliminary hearings in Montreal will seek to determine if there is enough evidence to proceed to trial against Luka Magnotta.
The 30-year-old denies murdering Jun Lin and defiling his corpse in May 2012. The victim's father was in court.
A judge denied a bid by defence lawyers to ban the public and media from court.
Several media organisations had argued against the request, which was related to an unspecified issue in Mr Magnotta's personal and medical history.
Chinese consulate watching
Wearing a white t-shirt and trousers, the defendant appeared in court inside a glass enclosure for Monday's hearing.
He was arrested in Berlin following an international manhunt, after a headless torso was found near his Montreal apartment.
Key to the prosecutors' case is a film posted online thought to show 33-year-old Lin's murder.
It is thought that Lin, who was studying engineering and computer science at Concordia University in Montreal, had been in a relationship with the man suspected of killing him.
Severed limbs, also confirmed to be the Chinese student's, were sent to political parties in Ottawa - including Canadian Prime Minister Stephen Harper's Conservative Party - and to two schools in Vancouver. His head was found a month later in a Montreal park.
Lin's father, Diran Lin, also attended Monday's hearing with a interpreter.
The Chinese consulate told broadcaster CTV they had been "paying close attention and tracking the latest developments in the case, and kept in close contact with Canadian police".
"We hope that the perpetrator will receive fair judgment, to uphold justice and bring a comforting result to the victim."