Harvard explains dean-email search after cheating leak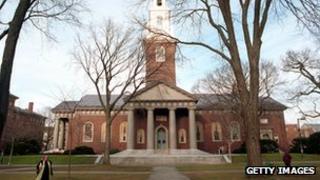 Harvard University administrators have confirmed they searched the emails of deans as part of an investigation into a leak of a student cheating scandal.
In a statement, Harvard said it had authorised "a very narrow, careful, and precise subject-line search" to protect confidential student information.
Over 120 students were implicated for cheating on an exam in an introductory government class last spring.
The Boston Globe first reported on the email searches on Saturday.
In a statement, Faculty of Arts and Sciences deans Michael Smith and Evelyn Hammonds said complaints over the search were fair.
They apologised "if any resident deans feel our communication at the conclusion of the investigation was insufficient".
"To be clear: No one's emails were opened and the contents of no one's emails were searched by human or machine,'' said the statement.
Some faculty members were unhappy with last autumn's search.
"This is disgraceful, even more so than the original cheating scandal, because it involves adults who should know better - really smart, powerful adults, with complete job security," Timothy McCarthy, a history lecturer, told the Harvard Crimson, the Ivy League university's daily newspaper.
But the subject-line search found an email from the disciplinary board handling the case had been forwarded from a resident dean to two students.
That dean was not identified, and the school said it determined the leak was "an inadvertent error and not an intentional breach", with no further action taken.
Harvard said in February that it had issued academic sanctions against about 60 students, who were forced to withdraw from school for a period of time because of the scandal.
The inquiry began after a teaching assistant detected problems in a take-home test.