Six-month-old Chicago girl shot in alleged gang attack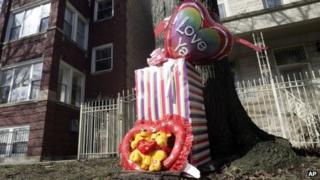 A six-month-old Chicago girl was shot as her father changed her nappy, amid news that the city's high murder rate has decreased so far this year.
City police say the attack that killed Jonylah Watkins, and wounded her father Jonathan, appears to be gang-related.
She was shot five times during the attack on Monday in a South Side neighbourhood and died in hospital.
Police head Garry McCarthy had told reporters earlier that homicides were down 26% from the same period of 2012.
On Tuesday, following the death of the six-month-old, he said: "It's hard to see the progress."
"No child, certainly not an infant, should be a victim of gang violence,'' he said.
Mr McCarthy said Jonathan Watkins belonged to a gang and had a long criminal history.
"He was obviously targeted,'' Mr McCarthy said, adding police were trying to determine whether a reported Facebook post threatening him actually exists.
'Heartbreaking'
Mr Watkins was in serious but stable condition, recovering from multiple wounds, police said.
The shooting happened as he was standing beside the open door of a minivan, with Jonylah on the front seat as he changed her nappy.
Officials found surveillance video of a blue van where the attacker is believed to have fled with a driver in waiting. Few other leads were available.
Chicago Mayor Rahm Emanuel called the infant's death "a senseless, despicable act of violence that is heartbreaking" adding he would "not rest" until every Chicago child could grow up in a safe neighbourhood.
It was not the first time the family had experienced gun violence. Jonylah's mother, Judy Watkins, had been shot in the knee while pregnant, the girl's grandmother told the Associated Press.
"[Judy's] very distraught, she's in a lot of pain," Reverend Corey Brooks, a spokesman for the family, told the Chicago Tribune. "We're going to help find who did this. We're going to take back our neighbourhood."
Rev Brooks' church has offered a $5,000 (£3,359) reward for information that leads police to the gunman.
Chicago has seen a rise in gun violence in the past few years. In 2012, the city had over 500 homicides, for the first time since 2008.