Police kill New York state gun-rampage suspect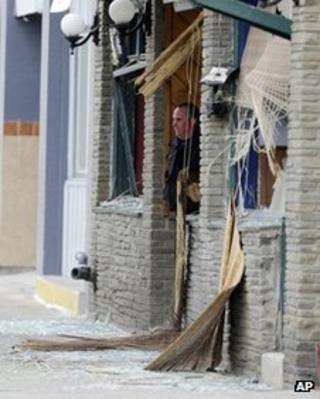 Police in New York state say they have killed a gunman who was holed up in a building, a day after his shooting spree left four people dead.
Kurt Myers killed a police dog as officers prepared to storm his hideout, before he himself was shot dead.
He had been surrounded by police in the village of Herkimer, 170 miles north-west of New York City, since Wednesday.
Myers, 64, had killed two people at a local barber shop and two more in a car wash, police say.
No officers were injured as police assaulted the building at 08:00 local time (12:00 GMT) on Thursday, trooper Jack Keller told the Associated Press.
"He was waiting for us," Mr Keller said. "He kills the dog. They hear shots fired. Our teams returned fire and the suspect gets shot."
'No warning'
The shootings began on Wednesday morning, after emergency crews were sent to a fire at Myers' apartment in the nearby village of Mohawk. After the fire was put out, officials found weapons inside the flat.
Officials said Myers then drove to John's Barber Shop in Mohawk and used a shotgun to kill two customers: Harry Montgomery, 68, and Michael Ransear, 57, a retired prison officer.
John Seymour, who was injured in the first attack, told his sister, Mary Hornett, that there was no warning.
Ms Hornett said: "He just said that the guys were in the barbershop and this guy comes in and he says, 'Hi John, do you remember me?' And my brother said, 'Yes, Kurt, how are you?' And then he just started shooting."
"My brother couldn't think of any reason why he would do such a thing," she said, adding Myers was a former customer who had not been in the shop for several years.
The gunman then drove to Gaffy's Fast Lube and Car Wash in Herkimer and used the shotgun to kill Michael Renshaw, 23, an employee of the state prison department, and Thomas Stefka, an employee of the car wash.