President Obama in third day of budget talks with lawmakers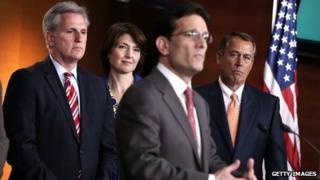 President Barack Obama has made his third and final trip to Capitol Hill this week in a rare outreach to strike a grand bargain on taxes and spending.
The Democratic president met Senate Republicans and House Democrats.
But so far Republicans refuse to budge on his call to close tax loopholes, even though he has shown willingness to cut entitlement programmes.
The US economy already faces $85bn (£56bn) in domestic and military cuts because of the political warfare.
Meanwhile, a government shutdown looms by the end of March - the latest in a series of cyclical budget battles that have crippled the bitterly divided US Congress.
Mr Obama made little headway on Wednesday when he met his toughest critics in Washington, House Republicans.
Lawmakers who left that closed-door meeting told reporters the president had indicated he was open to reducing spending on healthcare schemes such as Medicare and Medicaid, which would be a significant concession.
But Republicans are still refusing to accept Mr Obama's trade-off: closing tax code loopholes that benefit the wealthy.
Conservatives say there will be no more revenue since Mr Obama has already twisted lawmakers' arms this year into raising taxes on incomes higher than $400,000.
Meanwhile, both the House and Senate are proposing duelling budgets, which critics have dismissed as political window dressing.
Mr Obama has rejected the House Republican plan, passed by that chamber's budget committee on Wednesday, to cut $4.6tn from spending over a decade.
That blueprint, by former vice-presidential candidate Paul Ryan, envisages a repeal of Mr Obama's healthcare law and the privatisation of the Medicare scheme for the elderly.
On Thursday, Democrats on the Senate budget committee put forward their own budget document.
The Senate plan features nearly $1tn in tax revenues from closing the tax loopholes and an equivalent amount in spending cuts.
The president has also shown a willingness to trim the Social Security pension scheme, a plan that many Democrats would strongly oppose.
Mr Obama is expected to unveil his own budget plan early next month.