Steubenville: Grand jury to consider fresh charges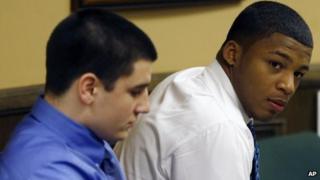 Further charges could be brought in the case of two US high school footballers convicted on Sunday of raping a 16-year-old girl, officials say.
Ohio's attorney general said anyone who kept quiet about the attack could face charges, including other teenagers, parents, coaches and school officials.
Trent Mays, 16, and Ma'lik Richmond, 17, wept as they were sentenced to at least a year in juvenile detention.
The case left the Rust Belt town of Steubenville bitterly divided.
Attorney General Mike DeWine, Ohio's top law enforcement official, said a grand jury would meet next month.
Humiliating photos
It would consider evidence gathered by investigators from dozens of interviews, including with the football team's coaches, he said.
"I've reached the conclusion that this investigation cannot be completed, simply cannot be completed, that we cannot bring finality to this matter without the convening of a grand jury," Mr DeWine said.
The incident took place last August when Mays and Richmond left a party with the victim and used their fingers to sexually abuse her, first in a car and then at a friend's house.
Mays was sentenced to an extra year for taking pictures of the naked victim. The judge said both might stay in detention until they reach 21.
Collapsing into the arms of his lawyer, Richmond said: "My life is over."
Mays and Richmond apologised to the victim and the community.
The case came to light via text messages, humiliating photos, online videos and social media posts, attracting nationwide attention.
Some claimed that the community - including local police - had sought to cover up the crime to protect the accused, who were members of a celebrated high school American football team.
The victim was so drunk she had no memory of the attack; prosecutors said she had been "treated like a toy".
"Many of the things we learned during this trial that our children were saying and doing were profane, were ugly," Judge Thomas Lipps said.
The case caused a sharp divide in Steubenville, an economically depressed former steel town of 18,000 people that had immense pride in its high school football team.
After the verdict, the victim's mother rebuked Mays and Richmond.
"You were your own accuser, through the social media that you chose to publish your criminal conduct on," she said.
Some of the witnesses were friends of the accused who gave evidence against them in return for immunity from prosecution.