Hillary Clinton backs gay marriage in online video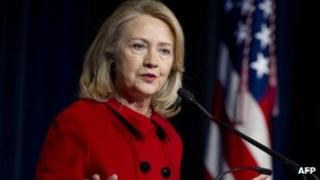 Former US Secretary of State Hillary Clinton has announced her support for gay marriage.
Gay and lesbian couples should enjoy equal rights that "includes marriage", Mrs Clinton said, in a five-minute video for a gay rights advocacy group.
Mrs Clinton added that she supports same-sex marriage "personally and as a matter of policy and law".
Other Democrats seen as possible 2016 presidential contenders have also publicly backed gay unions.
Vice-President Joe Biden, New York Governor Andrew Cuomo, and Maryland Governor Martin O'Malley - seen as possible presidential hopefuls - have also backed same-sex marriage.
Correspondents say the announcement, which comes weeks after Mrs Clinton left her post as the top US diplomat, is likely to fuel speculation that she may be considering a second run for the White House.
According to a Gallup opinion poll in November, 53% of American adults support same-sex marriage while 46% are opposed.
Views on gay marriage appear to be changing faster than on any other major issue, analysts say.
On Friday, Rob Portman became the first Republican senator to announce his support for same-sex marriage, saying he had a change of heart after learning that his son is gay.