New York's 'stop and frisk' police tactic challenged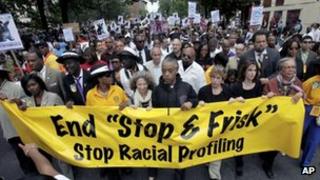 Plaintiffs in a lawsuit challenging a New York City policy allowing police to stop and search people on the streets say millions of men have been illegally stopped due to their race.
A disproportionate number of those stopped and frisked in violation of their constitutional rights were black or Hispanic men, the plaintiffs say.
Supporters say the policy has helped reduce violent crime in New York.
The plaintiffs have asked a federal court to order reforms in the policy.
More than 100 New York City residents, policemen and experts are due to testify in a civil trial that could last longer than a month.
The lawsuit was brought by the Center for Constitutional Rights on behalf of four black men who were stopped and searched under the policy.
'Frightening and degrading'
The suit now represents the class of people who were similarly stopped and frisked by police on New York City streets, and asks for a court-appointed monitor to oversee changes to how the police make stops.
Federal Judge Shira Scheindlin is not being asked to ban the policy, which has already been ruled legal, but could order reforms that change the way the tactic is used.
Darius Charney of the Center for Constitutional Rights says that while the policy is legal, the New York Police Department is illegally targeting black and Hispanic men.
Mr Charney said the stops were a "frightening and degrading experience" for people subjected to them and said they were "arbitrary, unnecessary and unconstitutional".
But the city argues the policy has helped bring down crime in New York to historically low levels, and its lawyers say crime occurs disproportionately in minority neighbourhoods.
"The New York Police Department is fully committed to policing within the boundaries of the law," Heidi Grossman, a city lawyer, said. "Crime is not distributed evenly across the city."
Last year, 419 people were killed in New York - the lowest since record-keeping began in the 1960s. That was down from more than 2,000 a year in the 1990s.
In 2012 police stopped and frisked 533,042 people on the streets of New York, up from about 115,000 in 2002, according to the Center for Constitutional Rights. About 87% of those were black or Hispanic.
In about half of all cases, police merely asked questions. But in other cases authorities searched a bag or performed a full pat-down search.
About 10% of searches reportedly result in arrests, and sometimes weapons were seized.