Max Shatto: Texas prosecutor declines charges in death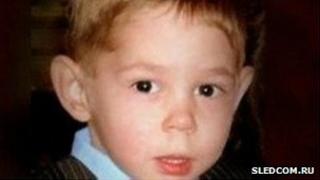 Prosecutors in Texas say they will not charge a couple whose adopted Russian son's death was ruled an accident.
Max Shatto, adopted from a Russian orphanage, died in January age three, soon after Russia banned US adoptions.
A grand jury had found insufficient evidence to charge Alan and Laura Shatto, a prosecutor said.
The case sparked outrage in Russia, where authorities have launched their own investigation and demanded the Shattos face charges.
Texas doctors who examined the boy ruled his death had been an accident and that bruises on his body were self-inflicted.
According to preliminary results of a post-mortem examination released this month, the child died accidentally from a torn artery in his abdomen and had bruises consistent with injuring himself.
No drugs or medicines had been found in his body and the coroner said he had had a mental disorder that caused him to hurt himself.
Earlier this month, more than 10,000 people marched in Moscow to demand a halt to all foreign adoptions of Russian children.
Max Shatto, born Maksim Kuzmin, and his younger brother Kristopher were adopted from an orphanage in north-west Russia last year by the Shattos, who live in Gardendale, Texas.
Murder allegation
Laura Shatto said she had found him unconscious outside the family's home and he died later in hospital.
When he died, Russia's children's commissioner Pavel Astakhov alleged he had been murdered by his adoptive mother.
But the Shattos' lawyer said the toddler had suffered from behavioural issues and occasionally butted his head on objects or other people.
Kristopher still lives with the Shattos.
In December, the Russian government banned adoptions of Russian orphans by Americans. Correspondents say Russia did so in retaliation for the US passing a law allowing Russian officials suspected of human rights abuses to be banned from the US.