Colorado prisons chief Tom Clements shot dead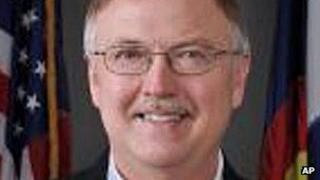 The head of the department of corrections in the US state of Colorado has been shot dead at his home, authorities say.
Tom Clements, 58, was gunned down on Tuesday evening as he was called to the front door of his home near the city of Colorado Springs, officials said.
Police are looking for his killer, and said a "boxy" dark car was seen nearby.
Police spokesman Lt Jeff Kramer said search dogs had been called in to scour a wooded area around Mr Clements' home.
Lt Kramer said a family member reported the shooting at about 20:30 local time (02:30 GMT on Wednesday) and officers found Mr Clements dead in his home.
Police have not yet suggested any motive for the killing in the town of Monument.
Investigators have said they would like to speak to a woman who was seen speed-walking near Mr Clements' house shortly before the shooting, in case she saw the suspect.
She was described as wearing light trousers, a dark windbreaker and possibly a hat.
Authorities said they were also looking for a late-model car, possibly a Lincoln or a Cadillac, that was spotted outside the victim's home.
Lt Kramer was quoted by the Denver Post as saying that there was no evidence of an attempted robbery or break-in.
"We know of his position and realise that it is a possible motive for a crime such as this," the El Paso County Sheriff's office spokesman told the newspaper.
"It's a quick, rapidly evolving investigation."
Colorado Governor John Hickenlooper appointed Mr Clements to the post in 2011. The prisons chief had previously worked for more than three decades in the Missouri Department of Corrections.
The governor praised Mr Clements' track record, saying he had found ways of improving prison safety and setting up programmes that helped offenders reintegrate successfully after leaving prison.
Speaking at a news conference on Wednesday, Gov Hickenlooper said he did not believe the attack on Mr Clements was part of a wider threat to his cabinet.
"Corrections is a very different job. You make difficult decisions every time that affect different people," the governor said.
In a sombre tone, and with red eyes, Gov Hickenlooper added that Mr Clements was a caring and dedicated expert.
"Tom Clements dedicated his life to being a public servant, to making our state a better place and he is going to be deeply, deeply missed," he said.
The governor was expected to meet Mr Clements family later on Wednesday.
Gov Hickenlooper has ordered flags in the state to be flown at half-mast from sunrise to sunset until the day after Mr Clements's funeral, the Denver Post reported.
Mr Clements is survived by his wife and two daughters.