US Senate passes budget bill to avert federal shutdown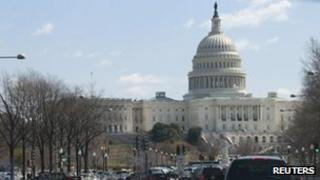 The US Senate has passed a budget bill to fund the US government until the end of September, a step toward averting a government shutdown later this month.
The measure, approved in a bipartisan 73-26 vote, has been sent back to the House for a vote expected on Thursday.
It retains $85bn (£56bn) in spending cuts this year that took effect on 1 March but gives agencies new flexibility in implementing them.
It restores funds for meat inspections and some military programmes.
If the budget deal is signed into law by President Barack Obama, Republicans and Democrats in Congress will next have to agree on a budget for the next fiscal year, which begins on 1 October.
Republicans and Democrats have been locked in a series of budget battles for years. Much of the struggle has focused on how best to reduce the government's annual budget deficit, which has hovered around $1tn.
Republicans demand dramatic spending cuts, mostly to domestic social programmes backed by Democrats, and adamantly oppose increasing taxes.
The Democrats led by President Obama prefer a mix of tax rises and spending reductions.