Congress passes budget bill to avert government shutdown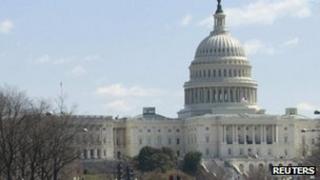 Congress has comfortably passed a large spending bill to keep the US government running until the end of September and avert a temporary shutdown.
President Barack Obama must now sign the bill, which was passed by a bipartisan vote of 318-109.
It retains $85bn (£56bn) in spending cuts this year that took effect on 1 March, but gives cabinet agencies new flexibility in implementing them.
The bill also keeps in place a pay freeze for federal employees.
Approved by the Senate on Wednesday, the legislation provides an extra $87bn to the Pentagon to pay for overseas operations in Afghanistan and Iraq.
Ryan plan approved
However, the bill does not signal an end to the fiscal warfare between Republicans and Democrats that has gridlocked Washington DC for so long.
Congress will next have to agree on a budget for the following fiscal year, which begins on 1 October.
Much of the disagreement has revolved around how best to reduce the government's annual budget deficit, which has hovered at around $1tn, without harming the economy.
On Thursday, Republicans in the House backed a budget plan by Representative Paul Ryan.
That bill, and a rival proposal being debated in the Democratic-controlled Senate, are widely viewed as political posturing by each party as they outline their federal spending priorities for future fiscal fights.
The Ryan blueprint, passed by 221-207 without the support of single Democratic lawmaker, would cut $5tn from the budget over a decade.
It proposes an overhaul of the government healthcare programme, Medicare, that would affect those aged 54 and under.
It also incorporates a $600bn tax raise already approved by Congress in a New Year deal.
Mr Ryan's plan has been criticised by Democrats who disagree with a strategy that would balance the budget without further raising revenue. And late on Thursday, the Democratic-led Senate soundly rejected it on a 40-59 vote.
In the Senate, Democrats are putting forward a plan that would raise $1tn in new revenue to stabilise the national debt, but would not fully balance the budget.