Innocent 'rabbi killer' David Ranta freed from prison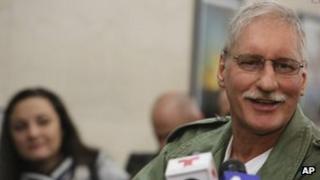 A New York judge has freed a man unjustly convicted of murdering a rabbi more than two decades ago, saying her apology was "grossly inadequate".
David Ranta was imprisoned for the 1990 murder of Holocaust survivor Chaskel Werzberger in a botched robbery.
But prosecutors now say they have insufficient evidence Mr Ranta shot the rabbi, and a recent media report found detectives had mishandled the case.
"I'm overwhelmed," Mr Ranta said. "I feel like I'm under water, swimming.
"As I said from the beginning, I had nothing to do with this case."
'Get out of here'
Mr Ranta, wearing a green army-style jacket and carrying a sack of belongings from his prison cell, was joined by emotional relatives including his now-pregnant daughter, an infant at the time of the conviction.
When asked by reporters what he would do now, Mr Ranta said: "Get the hell out of here."
Just before freeing Mr Ranta, the judge, who did not hear his original trial, said: "To say that I am sorry for what you have endured would be an understatement and grossly inadequate - but I say it to you anyway."
The murder of Rabbi Werzberger during a botched attempt to rob another man of a suitcase full of diamonds sparked outrage in New York's close-knit and politically powerful community of Satmar Hasidic Jews.
Thousands of mourners attended his funeral and then-Mayor David Dinkins offered a $10,000 reward for information leading to an arrest.
Mr Ranta, who was unemployed and addicted to drugs, was convicted in 1991 and sentenced to 37 years in prison.
According to an investigation by the New York Times, detectives in the case kept inadequate records, coached a witness, and wrote down Mr Ranta's confession in circumstances that the trial judge found troubling.
No physical evidence tied Mr Ranta to the killing, and after his conviction several witnesses recanted their testimony, the newspaper reported.
Prosecutors in New York City's Brooklyn borough began re-examining the case after District Attorney Charles Hynes formed a task force to investigate possible false convictions.
The lead detective in the original case, Louis Scarcella, has defended the investigation, saying he never framed anyone.
"I never framed anyone in my life," he said in an interview with the New York Post. "You have to be a low devil to frame someone. I sleep well at night."