Texas shootout 'link' to Colorado prison chief's killing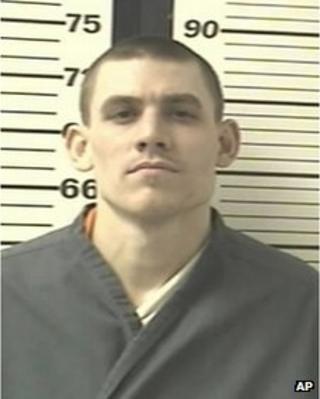 Officials are investigating if a gunman who died of his wounds after a shootout with Texas police on Thursday is linked to a Colorado prison chief's murder.
Evan Spencer Ebel, 28, was critically injured in the gun fight with officers he had fled in a high-speed car chase.
He was reported to have been a member of a white supremacist prison gang.
His black Colorado-licensed Cadillac matched the description of a car seen outside the home of Colorado state prison chief Tom Clements, 58.
In addition, shell casings found at the scene of the Texas shootout where Ebel was killed reportedly match those retrieved from Clements's home north of Colorado Springs, where he was gunned down as he answered the door on Tuesday night.
Pizza man's killing
In an unusual turn, Colorado Governor John Hickenlooper told a local newspaper he was close friends with Ebel's father, Jack Ebel.
Jack Ebel is a lawyer whom Gov Hickenlooper met when he worked as a geologist, he told the Denver Post, and they have remained friends.
Gov Hickenlooper, who appointed Clements, said he knew the younger Ebel was in prison but never mentioned his case to Clements and never pushed for his release.
"I didn't know Evan was out," he said.
The car chase in Texas began on Thursday morning when a policeman in Montague County tried to pull over a Cadillac.
The driver opened fire on the policeman, injuring him, before fleeing south and crashing in the city of Decatur.
The suspect then emerged from the vehicle shooting at police officers who had joined the pursuit.
"He wasn't planning on being taken alive," said Decatur police chief Rex Hoskins.
Officials also say they are investigating whether Ebel is linked to the killing of a pizza-delivery driver on Sunday.
Nathan Leon, 27, who was shot dead in Denver, Colorado, after answering a call.
Legal records show Ebel had convictions for several robberies and for assaulting a prison guard.
Law enforcement officials confirmed reports that he belonged to a white supremacist prison gang known as the 211s.
The Colorado-based 211s is rated as one of the fiercest such groups operating in US jails.
It was created to protect white prisoners from attacks, although it extorts money from inmates regardless of race.
Founded in 1995, the gang is said to have as many as 1,000 members and be organised with a military-style ranking system.