US spring snowstorm moves east after Midwestern havoc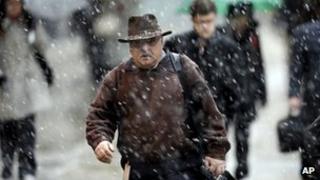 A spring storm that brought as much as 17in (43 cm) of snow to parts of the US Midwest is moving east.
Up to ten inches are expected in parts of Pennsylvania, with lesser totals forecast from southern New York to the states of the mid-Atlantic region.
The storm was blamed over the weekend for a series of road crashes causing two deaths and two life-threatening injuries.
Unseasonably cold temperatures are forecast to continue.
Weather officials said such heavy snow this late into March was rare, less than a week after the official start of spring.
National Weather Service meteorologist Heather Sheffield in Virginia said most of the Washington DC area's expected snowfall "happened at the worst time for the morning commute", creating a slushy mix of snow, ice and rain.
North of the US capital, up to four inches are expected in Maryland and Delaware, as is some accumulation in New Jersey and New York as the storm weakens.
On Saturday, parts of Colorado and north-west Kansas were hit with 10-15 inches of snow. Winds gusting at speeds of up to 45mph (72km/h) created snow drifts of two to three feet, according to Ryan Husted, a meteorologist with the National Weather Service in Kansas.
Springfield, in central Illinois, was slammed with a record 17in of snow, and several central Indiana counties declared snow emergencies after getting hit with up to eight inches.
Snowy and slick roads were blamed for several accidents. Anthony Hinthorne, 40, of Topeka, was killed on Saturday when his car rolled over on a Kansas highway.
Joshua French, 24, of Naperville, Illinois, was killed when he lost control of his vehicle on a wet stretch of Interstate 35 in eastern Missouri.
A series of crashes north of Indianapolis, Indiana also sent two people to hospital with life-threatening injuries on Sunday.
The storm led to the cancellation of as many as 500 flights on Sunday and 350 on Monday, including more than 100 at the St Louis airport, flight-tracking website FlightAware told CNN.