Evan Ebel linked to prison chief Tom Clements' death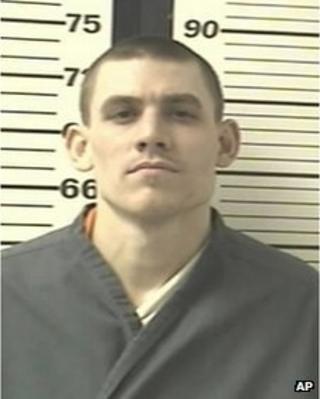 A Colorado parolee who died after a gunfight with police in Texas has been linked to the killing of a Colorado prison chief, investigators have said.
Markings on shell casings suggest the gun Evan Ebel used during the shootout was also used to kill Tom Clements, 58.
The 28-year-old was reportedly a member of a white supremacist prison gang.
His car, a black Cadillac, matched descriptions of a vehicle seen outside Clements' home before he died answering his front door on Tuesday of last week.
Authorities had already established bullets of the same calibre and brand were found at the scenes of both incidents.
But police say they still do not know why Clements was targeted, and whether his killer acted alone.
Memorial service
"There are no answers at this time surrounding motive and gaining these answers could be a lengthy process for investigators," sheriff's spokesman Lt Jeff Kramer said.
Earlier, hundreds of people gathered to pay tribute to Clements.
Colorado Governor John Hickenlooper, and members of Clements' family spoke at the memorial service.
They said he decided to work on prisons as a teenager, and had tried to reduce the use of solitary confinement in the state's prisons.
"We want everyone who hears Tom's story to know that he lived his life believing in redemption, in the ability of the human heart to be changed," his wife, Lisa, said.
"He would want justice, certainly, but moreover he'd want forgiveness. Our family prays for the family of the man who took Tom's life and we will pray for forgiveness in our own hearts and our own peace."
Gov Hickenlooper praised his colleague: "He had common sense and he had courage."
Meanwhile, Gov Hickenlooper told a local newspaper he was close friends with Ebel's father, Jack Ebel, a lawyer.
The governor has said that while he knew the younger Ebel had been in prison he never mentioned his case to Clements and never pushed for his parole, which happened in January.
The car chase in Texas began on Thursday morning when a policeman in Montague County tried to pull over a Cadillac.
Officials were also investigating whether Ebel was linked to the killing of a pizza-delivery driver, 27-year-old Nathan Leon, two days before Clements was gunned down.
Legal records show Ebel had convictions for several robberies and for assaulting a prison guard.
Law enforcement officials confirmed reports that he belonged to a white supremacist prison gang known as the 211s.
The Colorado-based 211s is rated as one of the fiercest such groups operating in US jails.