James Holmes 'ponders guilty plea' to avoid death penalty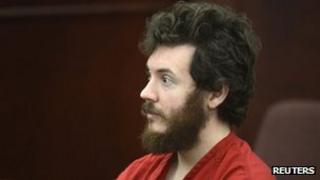 Lawyers for the man accused of killing 12 cinema-goers last July in Aurora, Colorado, say he is prepared to plead guilty to avoid the death penalty.
The attorneys said in a court motion that James Holmes, 25, was "currently willing to resolve the case".
Prosecutors are expected to announce next Monday whether they will pursue capital punishment.
The attack, at a midnight screening of Batman film The Dark Knight Rises, was one of America's worst mass shootings.
The accused is charged with multiple counts of murder and attempted murder.
A judge entered a not guilty plea for Mr Holmes on 12 March after lawyers said he was not ready to plead.
Prosecutors say the defendant planned the massacre for months, amassing a small arsenal and rigging explosive booby-traps in his apartment.
"Mr Holmes is currently willing to resolve the case to bring the proceedings to a speedy and definite conclusion for all involved," the lawyers wrote in the motion, as reported by the Denver Post.
They added that the prosecution had not yet responded to the plea deal, and their attempt to seek the death penalty would be the "only impediment to a resolution of this case".
Defence lawyers had previously raised questions about the accused's mental health, leading analysts to believe Mr Holmes would plead not guilty by reason of insanity.
At the 12 March hearing, they said a plea would not be ready until May or June. The trial is currently scheduled for August.
In the motion, lawyers for Mr Holmes said they would "vigorously present and argue any and all appropriate defences" if the offer was rejected.