Canada snowplough joyrider cleared of policeman's death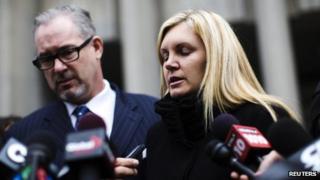 A Canadian jury says a Toronto man who stole a snowplough and killed a policeman with it is not criminally responsible because of mental illness.
Richard Kachkar took the machine while barefoot in 2011, destroying vehicles and a luxury car dealership before striking Sgt Ryan Russell, 35.
Prosecutors argued Mr Kachkar, 46, had targeted Russell to avoid arrest, but psychiatrists said he was psychotic.
Russell's widow told reporters she was "very disappointed" by the verdict.
"There is zero closure in a verdict of not criminally responsible," said Christine Russell.
During the trial, three psychiatrists testified that Mr Kachkar was in a psychotic state during the snowplough joyride.
The court also heard from paramedics that Mr Kachkar had feared they were trying to poison him or implant microchips into his body.
He was also yelling about the Taliban and the Chinese, and that "it's all a Russian video game".
Toronto Police Chief Bill Blair paid tribute to the 11-year police veteran and father of one.
"We lost a man and a family lost someone very, very dear to them and he was very dear to us," he told reporters.
"But we understand the nature of the verdict. It was a tough case."
As a result of the verdict, Mr Kachkar will be committed to a mental institution, to be decided by a review board within 45 days.