World Trade Center debris searched for human remains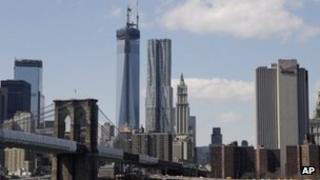 New York officials have resumed sifting through construction debris from the World Trade Center, looking for human remains from the 9/11 attacks.
Deputy Mayor Cas Holloway said on Friday that DNA testing would be used to make every identification possible.
About 60 lorry-loads of debris collected over two years will be processed in the next 10 weeks in the borough of Staten Island.
Some 2,750 people were killed in the 11 September 2001 attacks.
So far 1,634 victims have been named.
The New York City medical examiner said on Monday that the latest bout of sifting for human remains from the attacks had begun.
Since 2006, the department has used the technology to identify 34 victims, finding 2,345 possible remains of victims.
A new skyscraper, One World Trade Center, is being built on the site of the twin towers.
Once completed, it will be the tallest building in the Western hemisphere.