Iowa teen sues school officials over 'severe' bullying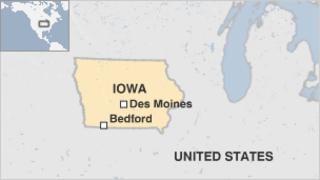 An Iowa teenager has sued school officials he says failed to protect him from severe bullying, including an attack he says left him disabled.
In October, he says, two students hit him repeatedly in the back of head with an American football.
The attack left a blood clot near his brain stem, causing severe neurological and cognitive problems, he says.
Bedford school district Superintendent Joe Drake said the district could not yet comment on the case.
But he said the school district aimed to provide a safe environment where students were treated with dignity and respect.
"Any known incidents or complaints of bullying, harassment or other issues concerning student welfare and safety are promptly investigated in accordance with district policies and procedures,'' he said in a statement.
The teenager, identified in federal court by his initials, and his grandmother say in a lawsuit that he repeatedly told officials at Bedford High School he was being bullied by students who verbally harassed him and physically attacked him.
Officials "would tell him that they would look into the allegation or directed [him] to tell another teacher or coach or that they didn't want to be bothered and walk away,'' he said in the court filing.
After the last - and worst - alleged attack on the sidelines of a football field during practice, coach Robert McCoy told the boy he would look into the incident but "stated he was sure the other players were not trying to hurt him", the boy said in the suit.
A local newspaper reported that days after the attack the boy, then 16, developed headaches, speech problems and gradual paralysis on his left side before he was transferred to a Nebraska hospital for surgery to remove the blood clot from his head.
He seeks compensation for damages from physical, emotional, neurological and cognitive problems that have rendered him "permanently and totally disabled".
In addition to Mr Drake, Mr McCoy and the school district, also named in the suit are principal Dana Nally and another school official.