US priest pleads guilty to drug dealing charges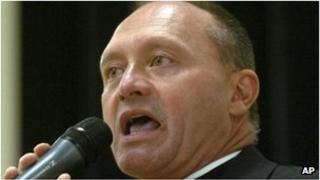 A Catholic priest has pleaded guilty to selling methamphetamine from his flat in the US state of Connecticut.
Kevin Wallin admitted making more than $300,000 (£200,000) from drugs sent to him from California.
The 61-year-old bought an adult video and sex toy shop, Land of Oz and Dorothy's Place, to launder the drug money, prosecutors said.
Wallin is due to be sentenced on 25 June. The sentence, already agreed, is between 11 and 14 years in jail.
Prosecutors said Wallin had sold nearly 4lb (1.8kg) of methamphetamine.
He was the pastor of St Augustine Parish in Bridgeport, Connecticut, for nine years, before he resigned in June 2011, citing personal and health reasons.
'Monsignor Meth'
He was given a sabbatical, but the Diocese of Bridgeport suspended him as a minister last May.
Church officials accused Wallin of sexually inappropriate behaviour with other men in the church rectory.
Earlier, he was the pastor at St Peter's Church in the town of Danbury for six years until 2002.
Wallin was arrested in January after an undercover agent bought 23g (0.8oz) of methamphetamine for more than $3,400 on six separate occasions.
Wallin was dubbed Monsignor Meth by some media.
Prosecutor David Fein said the arrest shut down "a significant methamphetamine distribution organisation that spanned from California to Connecticut".
Charges against four other people arrested in the case are pending.