Mark Sanford wins comeback nomination for Congress seat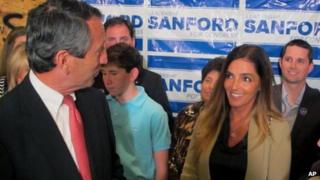 A former South Carolina governor who quit two years ago over an extramarital affair has won the Republican nomination to run for a vacant seat.
Mark Sanford comfortably saw off a rival in Tuesday night's run-off poll to become his party's candidate.
He will face Democrat Elizabeth Colbert Busch, the sister of television comedian Stephen Colbert, in May's special election.
Ms Colbert Busch is a businesswoman who has long aspired to political office.
In Tuesday's primary poll, Mr Sanford, 52, won 57% of the vote compared with 43% for former Charleston City Council member Curtis Bostic.
'Vigorous campaign'
He was joined at his victory speech by the Argentine woman - now his fiancee - with whom he was having an extramarital affair in 2009.
Mr Sanford thanked volunteers and voters, saying that while he believes in "a God of second chances, at times voters are a little bit less forgiving".
His campaign to win South Carolina's first congressional district, where he previously served from 1995-2001, is his first foray back into public life since 2011, when he left the governor's office in disgrace.
Mr Sanford represented the same district in Congress before he was elected governor in 2002 and re-elected in 2006.
In 2009, after disappearing for several days and telling his staff he was hiking the famed Appalachian Trail, the then-married Mr Sanford returned to the state to admit that he had been in Argentina with a mistress.
He was censured by the state legislature, but Mr Sanford defied numerous calls to step down before his term ended in January 2011.
He divorced his wife Jenny and is now engaged to the Argentine woman, ex-TV reporter Maria Belen Chapur.
Ms Colbert Busch's younger brother is Stephen Colbert, host of the popular satirical cable television show The Colbert Report.
In a statement on Tuesday, she said she was looking forward to "a vigorous campaign".
"As a businesswoman, I will use my experience to cut waste in Washington, lower tax rates so small businesses can create jobs and do the people of South Carolina proud as their representative," she said.