Two wanted in connection with Tom Clements case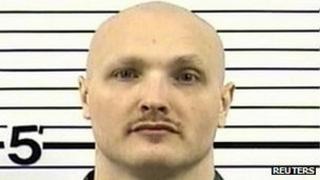 US authorities say they want to question two men linked to a white supremacist gang, in connection with the death of a Colorado prisons chief.
James Lohr, 47, and Thomas Guolee, 31, are not suspects in the death of Tom Clements last month, police said, while warning they are armed and dangerous.
But the pair's names were said to have surfaced during the investigation.
Police said they belong to the 211 Crew jail gang. Evan Ebel, suspected of killing Clements, was also a member.
Ebel, also suspected of shooting a pizza delivery man who died two days before Clements, was killed after a shootout with Texas police on 21 March. No motive has been identified.
Authorities declined to provide details about how Lohr and Guolee might be linked to the Clements case.
"Investigators are looking at a lot of different possibilities," said El Paso County Sheriff's spokesman Jeff Kramer on Wednesday, the Associated Press reported.
"We are not stepping out and saying it's a hit or it's not a hit. We're looking at all possible motives."
The whereabouts of the two parolees are unknown. Police do not know if the men are together, but Mr Kramer added that one or both of the men could be going to Nevada or Texas.
They are both wanted for cases not related to the death of Clements on 19 March.
Guolee was convicted for intimidating a witness and giving false information to a pawnbroker, among other charges.
Lohr is wanted for bail violation and for breaking a protection order, court records show.