Rutgers ex-coach Mike Rice to get $100,000 bonus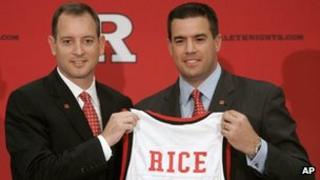 A US college basketball coach sacked this week after video emerged of him abusing players and screaming homophobic slurs will receive a $100,000 (£65,802) parting bonus.
Ex-Rutgers University coach Mike Rice's contract entitles him to the bonus for finishing the 2012-13 season.
Rutgers' critics say Mr Rice should have been fired when administrators first saw the video last year.
His dismissal then would have rendered him ineligible for the bonus.
Videos of team practices shot between 2010-12 show Mr Rice shouting obscenities, hurling balls at the young players, and kicking, pushing and grabbing them.
Rutgers Athletic Director Tim Pernetti viewed the footage late last year, at which point Rutgers suspended Mr Rice for three games, fined him $75,000 and ordered him to attend anger management classes.
The clips were first made public on sports broadcaster ESPN this week. Amid the outrage that followed Mr Rice was sacked, and he apologised on Wednesday, saying he had no excuse for the actions.
He was recruited in 2010 to be head basketball coach at Rutgers, which finished last season near the bottom of its league, the prestigious Big East Conference.
Mr Pernetti said on Wednesday that the decision initially to "rehabilitate" Mr Rice was his, "but I was wrong".
On Thursday, state Senate President Stephen Sweeney called for Mr Pernetti to be fired for not sacking Mr Rice sooner. Rutgers is a state university.
Mr Sweeney said the incident would "hang over Rutgers like a dark cloud for weeks, months and perhaps years to come".