Psychiatrist warned 'Batman killer' was a threat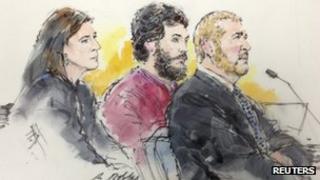 A psychiatrist who treated the man accused of killing 12 people in last July's cinema massacre in Colorado warned police he was dangerous.
Newly released court documents show Dr Lynne Fenton told police of threatening text messages James Holmes sent after he stopped attending counselling.
Mr Holmes, 25, is charged with multiple counts of murder in the attack during a premier of a Batman film.
Prosecutors have rejected a guilty plea and seek the death penalty.
The trial had been scheduled for August, but a judge has pushed it back to February 2014.
Burned bills
In an affidavit taken after the shooting and unsealed on Thursday, University of Colorado Denver police Officer Lynn Whitten told investigators that Dr Fenton had contacted her in June.
Dr Fenton was following a legal requirement to report a specific threat to authorities, according to the document.
Ms Whitten said the psychiatrist was making the report "due to homicidal statements [Mr Holmes] had made" and that Dr Fenton said he sent threatening text messages to her after he stopped attending counselling sessions.
Mr Holmes was a graduate student in neuroscience at the University of Colorado Denver but was withdrawing from his studies after failing a key exam.
Previous reports said Dr Fenton had told campus authorities about Mr Holmes, but not that she had made a report of specific threats.
A warrant also unsealed on Thursday described a package sent to Dr Fenton before the massacre, apparently by Mr Holmes. It included a brown notebook labelled "Of Life" that officials believe to be a journal, as well as partially burned $20 bills.
The documents were previously sealed, but a new judge overseeing the case ordered them released following requests from media organisations.
Separately, Judge William Sylvester has removed himself from the case after prosecutors announced they would seek the death penalty.
Judge Sylvester said the move meant the case would take up so much time that he could not carry out his administrative duties as chief judge of a busy four-county district.
District Judge Carlos Samour took over the case on Monday.