James Lohr held for questioning in Tom Clements death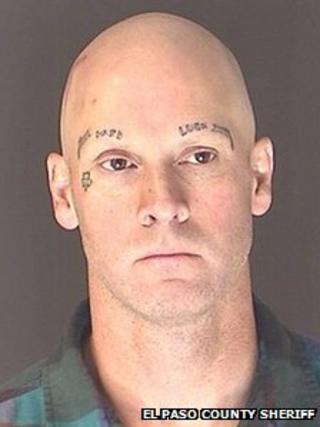 Colorado police say they have detained one of two alleged white supremacist gang members sought for questioning in the death of the state's prisons chief.
James Lohr, 47, was arrested just miles from where Tom Clements was gunned down on his doorstep on 19 March.
Authorities believe Lohr was in contact with a fellow member of the 211 Crew prison gang, Evan Ebel, days before Clements' murder.
Ebel, who is suspected of the murder, died in a shootout with Texas police.
The 28-year-old ex-convict is also believed to have shot a pizza delivery man who died two days before Clements. No motive has been identified for either killing.
Lohr was taken into custody early on Friday not far from the city of Colorado Springs, said El Paso County sheriff's spokesman Jeff Kramer.
He was arrested after officers attempted to pull over the vehicle he was driving and he jumped out, leading them on a brief foot chase, police said.
Investigators believe he threw a gun from the car window.
Police said on Thursday they were looking for Lohr and another member of the 211 Crew gang, Thomas Guolee, 33.
Authorities did not describe Lohr and Guolee as suspects in Clements's murder, but said their names had surfaced during the investigation. They were described as armed and dangerous.
Warrants were issued for both men on matters unrelated to the Clements investigation, and Lohr was arrested on multiple charges, including reckless driving and breaking bail conditions.