FAA delays air traffic control tower closures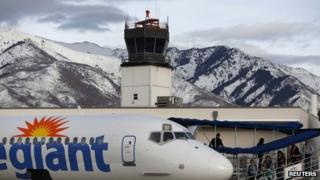 The US aviation authority will delay the closure of 149 air traffic control towers until June in order to resolve legal challenges, it has announced.
The Federal Aviation Administration (FAA) planned the closures at the small airports in an effort to cut about 10% from its budget by October.
But industry groups and several airports have filed lawsuits challenging the move.
The tower closures were originally planned to begin this weekend.
They were to be among the most visible signs of the automatic, across-the-board spending cuts known in Washington DC as "sequestration", which kicked in on 1 March after Republicans and Democrats in Congress failed to strike a deal to replace them.
The airports in question will now have several months to negotiate with the FAA or find an alternate solution in Congress.
'Good news'
Kansas Republican Senator Jerry Moran has attempted to exempt the towers from the effects of the budget cuts, and is expected to try again next month.
"For us it really is good news," Larry Krauter, an airport manager in Spokane, Washington, told the Reuters news agency.
"We've got some time to continue to work out the problem."
Many of the lawsuits argued the FAA did not follow its own review process on how the closures would affect safety.
The towers marked for closure were all staffed by private contractors.
Pilots landing or taking off there would have to co-ordinate on their own over the radio.
The smaller airports handle about 1% of commercial air traffic.