Bin Laden 'aide' trial delayed by US budget row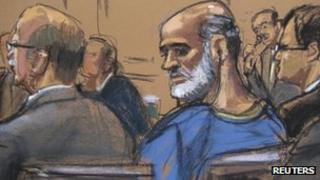 A terrorism trial for Osama Bin Laden's son-in-law will be held next year, a New York judge has said, a day after hearing budget cuts had hit the case.
On Monday, the judge said it was "stunning" that lawyers would not be ready because of unpaid leave imposed by the so-called US sequester.
Sulaiman Abu Ghaith last month denied charges in New York that he helped plot the 9/11 attacks on the US.
US District Judge Lewis Kaplan set the trial date for 7 January 2014.
'Extremely troublesome'
Mr Abu Ghaith's lawyer, Martin Cohen, had told the Manhattan court on Monday it would be "very difficult" to be ready by the judge's suggested trial date of September.
Mr Cohen said all court-appointed defenders were required to take nearly six weeks of unpaid leave by the autumn because of the 5.1% across-the-board federal budget cuts known as sequestration.
Judge Lewis Kaplan said it was "extremely troublesome to contemplate the possibility of a case of this nature being delayed because of sequestration".
The trial of Mr Abu Ghaith, a former Kuwaiti preacher, will mark one of the first prosecutions of a senior al-Qaeda leader on US soil.
US authorities have said that he was turned over to them in Jordan in February after being deported from Turkey.
Defence lawyers argued on Monday that a 22-page post-arrest statement made by the defendant in Jordan should not be allowed as evidence.
In court filings, US prosecutors say Mr Abu Ghaith served alongside Bin Laden from May 2001-02, speaking on behalf of al-Qaeda and warning that attacks similar to 9/11 would continue.
On 12 September 2001, he appeared with Bin Laden and current al-Qaeda leader Ayman al-Zawahiri to call for jihad against "the Jews, the Christians and the Americans", according to prosecutors.