Albany schools apologise for 'Nazi' class assignment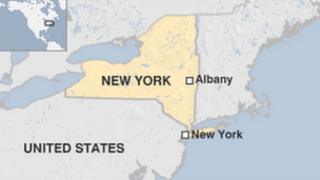 A New York state teacher is facing disciplinary action for assigning students to argue Jews were to blame for the problems of Nazi Germany.
The Albany High School teacher asked students to assume they were convincing a Nazi official of their loyalty.
A third of the students refused to complete the English class assignment.
The school system's superintendent says she believed that the teacher bore no ill intent but that the assignment should have been worded differently.
Marguerite Vanden Wyngaard said school administrators were discussing what action to take, at a press conference at the United Jewish Federation.
"This assignment for some of our students at Albany High School was completely unacceptable. It displayed a level of insensitivity that we absolutely will not tolerate in our school community," she told reporters.
"I'm deeply apologetic to all of our students, all of our families and the entire community."
Measures could range from a letter of counsel to dismissal.
School board members and representatives from Jewish organisations joined her at the briefing.
The English teacher, who has not been named, asked students to pick a method of argument and review a packet of Nazi propaganda in order to make a persuasive argument that "Jews are evil and the source of our problems".
"Please remember - your life [here in Nazi Germany in the 1930s] may depend on it. You do not have a choice in your position... use solid rationale from government propaganda to convince me of your loyalty to the Third Reich."