Boston marathon bombings: Life after limb loss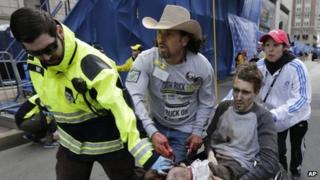 Among the visceral images published in the hours following Monday's explosions at the Boston Marathon, one photograph in particular left me feeling as though I had been winded.
Taken by Associated Press photographer Charles Krupa, it shows a bloodied and ashen-faced man in a grey sweatshirt being rushed away from the scene in a wheelchair.
The image is so graphic and shocking that most news organisations cropped the frame tightly. The original photograph, though, shows the man's left leg blown off below the knee, his tibia jutting out like a tree trunk, the skin around it flayed. His right leg is also severely injured.
Media reports have named the man as Jeffrey Bauman, a 24-year-old from Chelmsford, Massachusetts. He was reportedly waiting for his girlfriend to finish the marathon when the blast happened.
Grieving process
At just before 15:00 (19:00 GMT) Monday 15 April 2013, Jeffrey Bauman became another one of the estimated 1.7 million people in the United States to have lost one or more limbs.
He was not the only one.
News reports suggest medical teams in Boston performed at least 10 amputations.
Sadly, I know what Mr Bauman and his family must be feeling as he undergoes surgery for his injuries. I lost my right leg below the knee in a landmine explosion while reporting on the war in Iraq for the BBC 10 years ago this month.
The psychological effects of limb loss are well documented.
They are similar to those encountered when a loved one dies. Amputees go through a grieving process, often marked by the classic stages of denial, anger, bargaining and depression before final acceptance.
Changes in the way amputees perceive themselves and their bodies can sometimes lead to psychiatric conditions such as anxiety, depression and sexual problems. This can delay and complicate recovery and rehabilitation.
In the worst-case scenario, individuals who have lost a limb can become overwhelmed by a sense of hopelessness and the belief that their life is over.
Perceptions changing
Every person robbed of an arm or a leg in the Boston Marathon explosions will react differently. Some will find it easier to adapt physically and psychologically than others. Each has a long process of rehabilitation ahead of them.
But I know from personal experience that even the most severely injured person has the capacity to rebuild their life.
Prosthetic technology is improving all the time, driven in part by the large number of veterans who have lost limbs in Iraq and Afghanistan.
Patients with complex multiple amputations, who until recently would have faced a lifetime in a wheelchair, are now able to walk and take part in sports.
The experience of dealing with adversity head-on often seems to give amputees a desire to overcome limitations.
When I had both my legs, I wouldn't have dreamed of taking part in competitive sports.
Yet losing one of them seemed to trigger a dormant sense of competitiveness. I began cycling and rode across Death Valley to raise money for a landmine clearance charity. I ran half-marathons and entered duathlons using a custom-made carbon fibre prosthesis. Overtaking struggling runners with a very literal spring in my step in the closing stages of a race gave me a particular sense of achievement.
If there is a mountain that seems too difficult to climb or an adventure sport that seems too challenging, an amputee somewhere in the world will find a way to compete in it - and complete it.
In the 10 years since my leg was amputated, I have seen public perceptions shift significantly. In the past, the sight of someone missing an arm or a leg could unfortunately trigger revulsion or shock. That, thankfully, is changing. When I wear my shorts in public in the summer, my artificial leg often attracts curious questions and genuine interest rather than fear.
Acceptance
Most will be familiar with post-traumatic stress disorder, when the mind responds negatively and destructively to a life-changing incident. But the concept of post-traumatic growth is less well known.
According to psychologist Dr Richard Tedeschi, post-traumatic growth can also be an outcome of trauma, but one in which people see the changes in their life as valuable and beneficial.
"Post-traumatic growth is a new level of functioning, a new perspective, a transformation, so that people don't bounce back to where they were, they become something significantly different," he explains.
Dr Tedeschi admits that process of acceptance, even celebration, of life's darkest episodes can take many years.
While it may seem impossible to contemplate now, in time some survivors of the Boston Marathon bombing may come to see 15 April 2013 as the day their lives began.