Texas ex-justice of peace on triple murder charge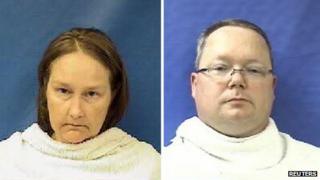 A former Texas justice of the peace has been charged with murdering two prosecutors and a spouse, officials have announced.
Eric Williams' wife, Kim, has implicated him in the deaths of Mike and Cynthia McLelland and Mark Hasse.
The Kaufman County district attorney and his wife were found dead at their home last month weeks after the killing of assistant prosecutor Hasse.
Mr Williams was prosecuted by both men last year for theft.
The former family lawyer received probation and lost his law licence.
'Getaway driver'
Now Mr Williams is being held on a $25m (£16m) bail bond at Kaufman County Jail. He has been in custody since Saturday on charges of making "terroristic threats".
The accused allegedly sent an email a day after the McLellands' bodies were discovered, suggesting there would be another attack unless officials responded to various demands.
On Thursday, police officials said Kim Williams was the getaway driver when her husband allegedly approached Hasse as he walked into work and gunned him down in broad daylight on 31 January.
Officials also say she was a passenger in late March when her husband allegedly drove to the McLelland home in Forney, Texas, to kill them over Easter weekend.
She was arrested for murder on Wednesday, a day after confessing her and her husband's alleged involvement in the killings, according to a police affidavit.
Mrs Williams, who is being held on a $10m bond, allegedly gave details of the murders that had not been made public, say officials.