Disbelief in home district of bomb suspect Dzhokhar Tsarnaev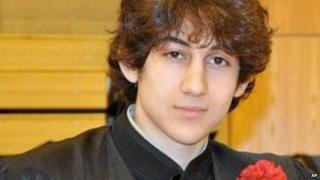 People who know Dzhokhar Tsarnaev are trying to understand what happened. How did a bright, ambitious teenager turn out so badly?
In a lifeguard-certification course at Cambridge Rindge and Latin School, Dzhokhar Tsarnaev had a hard time staying afloat - at least when he had to tread water while holding a heavy brick in his hands.
"That was his main struggle," says his friend, Mark Faria, 19, who took the course with him. Still, Tsarnaev stuck with it - and passed the course.
Afterwards, Mr Faria recalls, they celebrated. "We were all just excited," he says, "I'd see him in the hallway at school and I'd say, 'Hey, lifeguard.'"
Tsarnaev once worked hard to learn how to save people's lives. As it turns out, though, he is now in custody, suspected of murder - accused of setting off bombs at the Boston Marathon, among other crimes.
His brother, Tamerlan Tsarnaev, 26, is dead.
'Influence'
People who know Dzhokhar Tsarnaev cannot believe that he is responsible.
They say he must have been under the influence of someone - his brother, perhaps, or a terrorist group. Regardless of the reasons, he is now the centre of a global scandal. The events have hit this neighbourhood especially hard.
"It's a ghost town," says Mr Faria, looking up and down Prospect Street.
Ali Bara Market, which sells chicken "hand-slaughtered by Muslims according to Islamic Law", as a sign in the front window says, is closed. So is a mosque down the street - the place where the Tsarnaevs used to pray.
Most people are indoors. Mr Faria steps out of his apartment building to talk. He says he is "dumbfounded" about his friend.
"We're watching the news all day and we see his face on TV," he says. "It doesn't sit." He shrugs.
A few blocks away, police are about to conduct a controlled explosion at his friend's house on Norfolk Street. Authorities are trying to make sure the place does not contain explosives.
Around the corner, there is a festive air - as journalists, students and others wait for the explosion. Bottles of Mexican beer are sitting on a bench inside Troy Anthony's Barber Shop on Cambridge Street. Two televisions are blaring, and people are getting haircuts.
Cambridge Street is filled with restaurants and shops run by people originally from Portugal and the Azores, including a fish market and a second-hand store. Students and professors live here, too. At one house, a Volvo station wagon, rusted and grey, has a bumper sticker that reads, "War is terrorism with a bigger budget."
Before this week, the area had had a brief moment of fame - two Russian spies, Donald Heathfield and Tracey Lee Ann Foley, lived less than a mile down the road.
Scholarship
Dzhokhar Tsarnaev came here in 2002 with his family - immigrants with a Chechen background - who had once lived in Central Asia.
Mr Faria says they took a violence-prevention class together in high school - STARS, which stands for Students Teaching and Advocating Respect. "He was a good student," Mr Faria says.
Later, Dzhokhar Tsarnaev won a $2,500 (£1,600) scholarship from Cambridge in Massachusetts.
No-one knows why he turned out the way he did. "That's the million-dollar question," says Nancy Aiguier, a dreadlocked 58-year-old who hosts a reggae programme on a local radio station. She lives down the street.
"I used to see him skateboarding," says Ms Aiguier. "He made a lot of noise."
Teenagers change, of course. Tsarnaev became an American citizen in 2012. At a certain point, though, he no longer seemed optimistic about the future.
"About a week and a half ago, I saw him walking kind of fast on our street," says Ms Aiguier. "He looked sort of reclusive, inward, and he was wearing a hoodie."
Another Russian immigrant, Konstantyn ("Costa") Morozov, 27, points out that not everybody finds their way in the US.
'Hard to adjust'
Mr Morozov, who has red hair and crooked teeth, was smoking a cigarette on a front stoop on Brighton Avenue. He lives down the street from the Wai Kru gym, the place where Tamerlan Tsarnaev used to work out.
Mr Morozov is from Volgodonsk, a city in southern Russia. "Sometimes it's very hard to live here," he says. "Some of the cultural traditions - there are parts you don't like. After a while you get used to it."
He says it took a while - but he adjusted. "I have to say that something changed in my mind," he tells me.
He twirls his fingers next to his left temple, trying to show how something got turned around inside of him. "You become Americanised," he explains.
Not everyone likes it here.
"I don't have a single American friend," Tamerlan Tsarnaev said, according to a student-run magazine based at Boston University, which published a photo of him in 2010. The photos were taken at the gym where he used to work out. "I don't understand them." He had a girlfriend - and later married and had a daughter.
He also had a dark side. In July 2009, according to a crime-monitoring website, Spotcrime.com, he was arrested for domestic violence after "assaulting his girlfriend".
Some of the people who work on Cambridge Street knew the Tsarnaev brothers - and the man they reportedly killed.
At Superior Market on Cambridge Street, Alberto Gomes watches television. He sees the image of Sean Collier, 26, who used to work as a police officer at Massachusetts Institute of Technology, the place where he was shot.
'Pawns'
"I see this kid grow up," Mr Gomes says, holding his hand about a foot off the ground - as if he were going to pat a boy on the head.
Mr Gomes, who came to the US from the Azores in 1972, says he can't understand the newer generation of immigrants, like the Tsarnaev brothers. "Maybe they don't want to work," he says.
By the evening, there had still been no explosion at the house where the brothers had once lived. The air was chilly. The crowd began to thin out. People who stayed behind tried to come up with explanations for what had happened.
"My personal opinion is that those guys are just pawns and it's a bigger thing than what we're seeing," Ms Aiguier says. "And it will someday be revealed."
Heading toward the front steps of his house, Mr Faria tries to defend his friend. "I don't know if he had an actual motive - or if he was kind of forced into it," he says.
"I feel sorry for him, but if he is a criminal..." he says, his voice trailing off. "I'll just leave it at that."