Q&A: Possible FBI failings in Boston bombing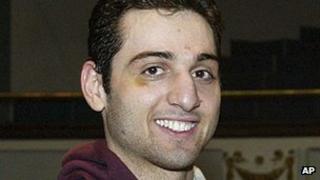 Senior Federal Bureau of Investigation (FBI) officials are to face tough questions in Congress on Tuesday about the Boston Marathon bombing, in which three people died and scores were injured.
Several US lawmakers have raised concerns that the US security agency failed to identify and follow up information about the threat posed by Tamerlan Tsarnaev.
The 26-year-old was killed last week in a shootout with police. His wounded brother Dzhokhar, 19, has been charged over the bombings.
What did the FBI learn when it interviewed Tamerlan Tsarnaev?
Boston Marathon bombing suspect Tamerlan Tsarnaev and members of his family were interviewed by the FBI in 2011, following a tip-off from Russian officials that Tamerlan had possible Islamist extremist links.
Senator Dianne Feinstein, chairwoman of the Senate intelligence committee, has called for senior FBI officials to testify to explain what they learned and why they did not pursue the matter further.
The FBI says it checked US government databases and other information for evidence of the use of online sites associated with the promotion of radical activity and associations with other persons of interest.
But the "FBI did not find any terrorism activity, domestic or foreign, and those results were provided to the foreign government in the summer of 2011," the agency said in a statement on Friday.
Why was no further action taken after the 2011 investigation?
FBI agents closed the case after finding no evidence against him.
The FBI said it had requested more specific or additional information on Tamerlan from Moscow but received no reply.
"It's people like this that you don't want to let out of your sight, and this was a mistake," South Carolina Republican Senator Lindsey Graham told CNN on Sunday.
"Either our laws are insufficient or the FBI failed, but we're at war with radical Islamists and we need to up our game."
Why were the authorities unaware of his visit to Russia?
The name of the dead suspect was included in a federal government travel-screening database in 2011, following the FBI inquiry.
Travel records show that Tamerlan Tsarnaev left New York in January 2012, heading for Moscow. He returned to the US in July.
Senator Lindsey Graham, a member of the Senate Armed Services Committee, said the FBI was unaware of his visit because the suspect's name was misspelled on travel documents.
Investigators are now focusing on his movements during his trip to his birthplace in Dagestan, in the volatile North Caucasus region.
He spent much of his time there praying and learning to read the Koran, according to one of his aunts.
Why was he not identified as a threat based on links to radical websites?
In recent years, Tamerlan Tsarnaev had become interested in Islamic extremism and had begun posting militant Islamist videos on social media sites.
Senators have questioned why Tamerlan Tsarnaev's online connections to radical websites did not cause the FBI to identify him as a potential threat.