Ricin suspect Everett Dutschke appears in court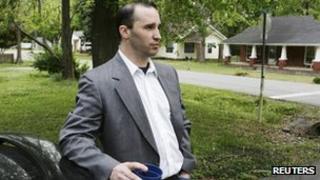 A Mississippi martial arts instructor has been held without bond over charges relating to ricin-laced letters sent to President Obama, a senator and a judge.
Hands shackled, James Everett Dutschke appeared in a federal court wearing an orange jumpsuit.
The 41-year-old has been charged with possessing a biological agent with intent to use as a weapon.
Prosecutors are expected to outline the evidence they have against him at a hearing later this week.
He was detained on Saturday, days after police arrested and then released another man, Paul Kevin Curtis.
Investigators, some in hazardous materials suits, searched Mr Dutschke's home, business and vehicles in Tupelo. He had reportedly been under surveillance.
First suspect framed?
During Monday's brief court appearance, Mr Dutschke spoke only to confirm to the judge that he understood the charges.
The former taekwondo-studio operator will remain in jail until a preliminary hearing scheduled for Thursday.
According to an FBI news release, Mr Dutschke was charged with "knowingly developing, producing, stockpiling, transferring, acquiring, retaining and possessing a biological agent, toxin and delivery system, for use as a weapon, to wit: ricin".
A lawyer for Mr Dutschke said her client was co-operating with the authorities. If convicted, he could face up to life in prison.
The letters were sent to the president, Mississippi Senator Roger Wicker and Judge Sadie Holland on 8 April.
On 17 April, authorities arrested Mr Curtis, a 45-year-old local Elvis impersonator. But he was released from jail and charges were dropped six days later.
No evidence of ricin was found in FBI searches of Mr Curtis' home.
The letters were signed: "I am KC and I approve this message." Mr Curtis, who said he had been framed, often ended posts on his Facebook page in a similar manner.
Mr Dutschke and Mr Curtis reportedly knew each other, and Mr Curtis said the two men had discussed publishing a book on an alleged conspiracy Mr Curtis believed he had discovered, to sell body parts on the black market.
But the pair later fell out.
Authorities began investigating Mr Dutschke after Mr Curtis' defence lawyers gave them a list of people they thought might have a reason to hurt their client.