California wildfire shuts famous highway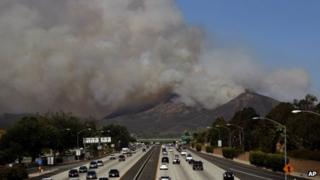 One of several wildfires raging in California temporarily closed a section of the state's coastal highway.
Fanned by strong winds, the blaze ravaged hillsides and canyons in Ventura County near Los Angeles, threatening homes around two towns.
A 10-mile (16-km) section of the Pacific Coast Highway was closed for a while just west of Malibu because of the Camarillo Springs blaze.
California State University at Channel Islands cancelled classes due to smoke.
Hundreds of firefighters are tackling the fire, which was sparked during the Thursday morning rush hour.
'Huge monster'
Planes dropped water and retardant to protect properties, but were temporarily grounded as winds gusted to 50mph (80km/h).
The Santa Ana winds fanned the blaze and blew clouds of dark smoke over homes and strawberry fields to the south.
More than 6,500 acres (2600 ha) have been burned, and a cluster of motor homes were charred by the flames.
Motorist Zeke Jaquez told NBC Los Angeles: "It's unbelievable. It's this huge monster."
It is one of several infernoes in the state that have already destroyed several homes and scorched thousands of acres.
About 100 miles east of Camarillo, four houses were razed in a fire in Jurupa Valley. A primary school was also evacuated.
In the San Bernardino Mountains, near Banning, crews tackled a fire through the night.
After ruining a home on Wednesday, it was 40% contained, but fire officials said renewed winds could slow progress.
About 700 firefighters and aircraft were fighting that blaze.
Resident Joe Kiener, 53, lost the home he had lived in since it was bought by his mother in the 1970s.
Several smaller fires have also been reported in northern parts of California.