New Jersey governor has gastric band surgery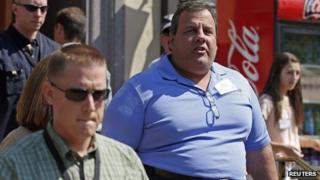 The governor of New Jersey, often mentioned as a possible future Republican presidential candidate, has undergone gastric band surgery.
The famously overweight Chris Christie had the operation in February to reduce the size of his stomach, his aide said.
Mr Christie said that he had decided to lose weight for the sake of his wife his four children.
He won praise for his response to Superstorm Sandy, which devastated parts of New Jersey last October.
His effusive praise of Democratic President Barack Obama and federal recovery efforts were not welcomed by his Republican colleagues so close to the election.
He is often mentioned as a possible Republican contender for the 2016 presidential election.
Mr Christie has already said he will run for a second term as governor in November, but denied that thoughts of running for the presidency had led him to have the operation.
"I know it sounds crazy to say that running for president is minor, but in the grand scheme of things, it was looking at Mary Pat and the kids and going: 'I have to do this for them, even if I don't give a crap about myself,'" he told the New York Post.
He went on to say: "I've struggled with this issue for 20 years. For me, this is about turning 50 and looking at my children and wanting to be there for them."
He said the operation, in mid-February, had lasted 40 minutes and he had returned home the same afternoon.
He declined to say how much he had lost since the surgery, but acknowledged it had affected his eating behaviour.
"A week or two ago, I went to a steakhouse and ordered a steak and ate about a third of it, and I was full," he said.
A gastric band, or lap band, operation involves placing a silicone tube around the upper part of the stomach to make it smaller and therefore limit the amount of food the stomach can hold.