Colorado Batman gunman James Holmes 'to plead insanity'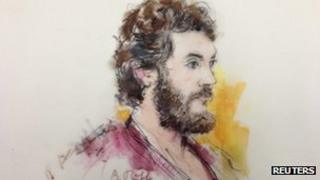 The man accused of killing 12 people and injuring dozens in the July massacre at a Batman film in Colorado intends to plead not guilty by reason of insanity, his lawyers have said.
Lawyers for James Holmes, 25, said they would ask for the change of plea at a 13 May hearing.
A judge previously entered a not guilty plea after the defence said Mr Holmes was not ready to plead.
Prosecutors have said they will seek the death penalty.
Mr Holmes is charged with multiple counts of murder and attempted murder in the 20 July attack in Aurora, Colorado. It was one of the worst mass shootings in US history.
The attack took place at the midnight premiere of the newest Batman film in a suburb of Denver.
He is also accused of booby-trapping his apartment with explosive chemical and incendiary devices linked by wires, intended to distract emergency responders from the cinema shooting.
Medical evaluation
If the judge accepts the new plea, Mr Holmes will be moved to a psychiatric hospital where doctors will determine whether he was insane at the time of the attack.
A jury could still find him guilty despite a medical finding of insanity.
Colorado law defines insanity as the inability to distinguish right from wrong, caused by a diseased or defective mind.
Mr Holmes's lawyers have said at hearings and in court documents that they believe the former student is mentally ill. He was being seen by a psychiatrist before the shooting.
The trial had been scheduled for August, but a judge has pushed it back to February 2014. It is unclear if the new plea will further delay the case.
Prosecutors rejected an earlier offer from Mr Holmes's lawyers to plead guilty in order to avoid execution.
In a court filing, they accused the defence of violating a gag order by making the offer public, and argued the defence had repeatedly refused to yield information they needed to evaluate the plea offer.