Cleveland's Seymour Avenue: Scene of a terrible crime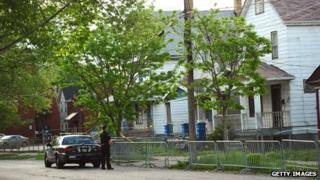 The residential street where Amanda Berry, Gina DeJesus and Michelle Knight were held captive seemed friendly and peaceful. Jonny Dymond reports on the neighbours' struggle to understand what went wrong.
It is difficult to imagine a place that would physically match the horror of a decade of confinement, of a child born into captivity and of three girls' stolen youth.
But even given the depravity of the crime, Seymour Avenue is a jarringly normal place.
At one end of the street sits Immanuel Evangelical Lutheran church, a heavy red brick building with a large silver cross on its back wall.
'A different man'
Traffic hums gently on either side of the 200m avenue. As you walk down its length birdsong comes from the trees that hang over the road.
Many of the houses have seen better days. Paint peels from a fair few of the one and two-storey houses, and a number are boarded up.
But there is no menace to it. Residents sit out on porches and watch the world go by in warm weather. It is a friendly-feeling place and people here are happy to talk - to each other and to the strangers that have, overnight, landed in their midst.
There is a tired stereotype to the kind of people who carry out the kind of crime that has been uncovered at 2207 Seymour Avenue - the quiet resident who kept to himself.
Ariel Castro, charged with kidnapping and raping the three women, does not fit that stereotype.
Whilst information is slowly emerging about a history of domestic violence, his immediate neighbours knew a different man.
Just across from 2207, Aurora Marti, 75, remembers with astonishment the visits from Mr Castro. She has lived on Seymour Avenue for 27 years.
He used to come over and visit, she says. He took her granddaughter for a bike ride in the park. He sat on her porch to shoot the breeze.
"Last year they were digging down the street for her [Amanda Berry] and he was sitting over here talking about it," Ms Marti's daughter Jovarti tells me.
"He was a good neighbour," she goes on. "He always used to come and sit over here and talk to us."
'Evil'
Some - perhaps with the benefit of a little hindsight - say that they felt there was something wrong with the family, something different.
John Papow, who works in IT, grew up with Mr Castro's brothers Onil and Pedro, both cleared of criminal wrong-doing in the case.
"They never really talked about their personal lives," he says. "I step back when all this has happened and I think, 'Oh my God, what did I miss?' This person came to my house, was in my garage."
The reality of the situation is sinking in. "I have a daughter the same age [as the missing women], my daughter Eugena," he says. "Now I look across the street and all I see is monsters. Evil."
Mr Papow is not the only one wondering what he missed.
Some in the neighbourhood are now asking why nobody noticed what was going on for so long in 2207.
Some of the answers are prosaic.
Snitching
Seymour Avenue is not a white-picket-fence suburb where everyone knows everyone. There's a fairly transient population that comes and goes and people can choose to keep to themselves.
Amongst some, says Brian Cummins, the councillor for the area, there is a feeling that going to the police with suspicions is akin to snitching.
And in an area with a fair number of boarded-up and knocked-about houses, one where you cannot see into some windows doesn't look much out of place.
Given the flood of sightseers around the house and Seymour Avenue it is tempting to conclude that the neighbourhood will never be the same again. But wander the nearby streets and peace descends again.
An ice cream van trundles down the road. Its chimes ring out in the late afternoon sunshine, throwing into sharp relief the way that innocence and evil lived here, side by side.