US teen charged over Utah football referee's death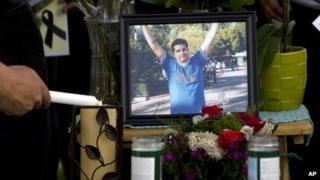 A US teen accused of punching a football referee who later died has been charged with homicide by assault.
Ricardo Portillo, 46, died on Saturday after a week spent in a coma following the alleged assault that took place during a game in Salt Lake City, Utah.
Police say a 17-year-old player in a recreational league struck Mr Portillo after he issued him with a yellow card.
A homicide by assault charge, less serious than manslaughter, is used if an attack unintentionally causes death.
It carries up to five years in prison for adults, with lesser penalties for juveniles.
The teenager has been in juvenile detention since the incident on 27 April.
However, Salt Lake County District Attorney Sim Gill said he would seek to try the 17-year-old as an adult, reports the AP news agency,
According to a police report, the incident happened during a game at a high school in a suburb of Salt Lake City.
The teenager was playing as a goalkeeper when Mr Portillo showed him a yellow card for shoving a player on the opposing team who was attempting to score.
After arguing with the referee, the teenager allegedly punched him in the face. Mr Portillo sat down and began vomiting blood.
He was taken to hospital and slipped into a coma with swelling on his brain.
Some 100 family and friends held a candlelight vigil on Sunday night on the front lawn of Mr Portillo's Salt Lake City home. A funeral service is being held on Wednesday.