Dead Boston suspect Tsarnaev 'talked jihad' in Russia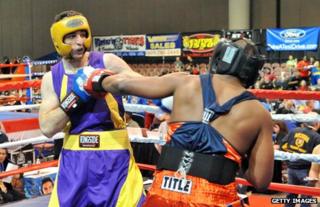 Boston bombing suspect Tamerlan Tsarnaev already held extreme views when he visited Russia, Islamists in Dagestan have told US media.
Tsarnaev's cousin Magomed Kartashov, a local Islamist leader, reportedly spent hours trying to dissuade him from becoming a militant.
Russian anti-terrorist police have interrogated Mr Kartashov, who is in custody over an unrelated offense.
Tsarnaev, killed during the Boston manhunt, was buried on Thursday.
He was interred secretly after protests outside funeral homes where his body had been kept in Massachusetts.
Tsaranev and his younger brother Dzhokhar are suspected of bombing the Boston Marathon finishing-line on 15 April, when three people were killed and more than 260 injured, in an attack which shocked America.
One policeman was shot dead and another wounded during the search for the bombers.
'He was surprised'
The Tsarnaevs come from a family of ethnic Chechens and had been living in the US for about a decade before the attacks.
Tamerlan Tsarnaev returned from the US last year for a long visit to Dagestan, a Russian republic bordering Chechnya. Islamist insurgents are active in the region.
Members of an Islamist political organisation in Dagestan, the Union of the Just, spoke to US reporters in the Dagestani town of Kizlyar about their dealings with him.
In an interview for the New York Times, Zaur M Zakaryayev said: "He already had jihad views when he came.
"I think because he was Chechen, he was rooting for his homeland. When he got here he was surprised at the conditions. I think he expected to find a full-fledged war, that one people was fighting with another."
Mr Zakaryayev said that Magomed Kartashov, who reportedly founded the Union of the Just, had spent hours trying to stop Tsarnaev from joining one of the militant cells scattered through the region.
"Magomed explained to him at length that violent methods are not right," he said, adding that his organisation did not support the bombing.
In words relayed to Time magazine through his lawyer, Mr Kartashov said from custody that Tsarnaev had been the one trying to "pull him in to extremism".
"Kartashov tried to talk [Tsarnaev] out of his interest in extremism," the lawyer said.
However, a member of the Union of the Just, Bilyal Magomedov, appeared to welcome the Boston bombing.
"In principle, it's good that this happened, even though the [Tsarnaev] brothers suffered," he told a Time reporter.
"Don't understand me wrong, but Sept. 11 led many Americans to convert to Islam. It's another question that people died there, sure. But people also started to wonder why this act was committed..."
Tsarnaev's brother Dzhokhar, who was wounded during the manhunt, is in US custody on federal terrorism charges.