Eric Holder quizzed on twin scandals by House panel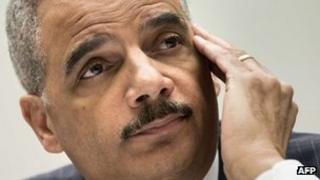 The US attorney general has faced hostile questioning at a fractious congressional hearing on two scandals rattling the Obama administration.
Eric Holder told a House panel a probe into the conduct of the US tax agency would be as widespread as needed.
The FBI is investigating if the agency committed any crimes by singling out conservative groups for extra scrutiny.
Panel members also expressed concern at a secret subpoena of the Associated Press (AP) news agency's phone records.
The justice department revealed last Friday that they had seized the records of several AP journalists during April and May 2012.
'Unacceptable and shameful'
Mr Holder gave brief answers to the House judiciary committee's queries on the news agency case.
America's top prosecutor cited his recusal from the investigation to avoid any conflict of interest because, he said, he had been questioned on the matter previously and had access to the information leaked to AP.
Mr Holder said he could not tell the panel the exact date of the recusal, and that there was no written record of it.
The hearing became heated as Republican Representative Darrell Issa accused the attorney general of a cover-up on a separate matter, interrupting his responses.
Mr Holder replied: "That's what you typically do. No, I'm not going to stop talking now."
Speaking over Mr Issa, he added: "It's inappropriate and it's too consistent with the way you conduct yourself as a member of Congress. It's unacceptable and it's shameful."
The attorney general promised the FBI probe into the conduct of the Internal Revenue Service (IRS) would be as broad as necessary.
"I can assure you and the American people that we will take a dispassionate view of this," Mr Holder said. "This will not be about parties; this will not be about ideological persuasions."
The IRS had used key words such as "tea party" and "patriot" to subject applications by groups seeking tax-exempt status to extra scrutiny.
Some Republicans, including two high profile governors, have called for a special prosecutor to investigate.
House Speaker John Boehner told reporters on Wednesday: "My question is, who's going to jail over this scandal?"
In response to a treasury department report that blamed "ineffective management" at the agency, Mr Obama said on Tuesday night that the IRS actions had been "intolerable and inexcusable".
Mr Obama said those responsible would be held accountable.
'Where the buck stops'
Despite Mr Holder's protestations, lawmakers pressed him on why the subpoena was so broad and why the justice department did not first try to negotiate with AP.
"There doesn't appear to be any acceptance of responsibility for things that have gone wrong," Representative Jim Sensenbrenner, a Wisconsin Republican, said. "We don't know where the buck stops."
Democratic Representative Zoe Lofgren said it was clear to her that the justice department's actions had impaired the US Constitution's first amendment, which guarantees freedom of the press.
Separate from the hearing, Senator Chuck Schumer, a Democrat, said he would reintroduce a 2009 so-called media shield bill to protect journalists and their employers from having to reveal the identity of confidential sources, with some exceptions for national security.
"This kind of law would balance national security needs against the public's right to the free flow of information," Sen Schumer said in a statement. "At minimum, our bill would have ensured a fairer, more deliberate process in this case."
It is unclear if the AP records would have been protected by such a law.
The White House has thrown its support behind the media bill. But it also said it was unable to comment on the FBI inquiry because it essentially amounts to a criminal investigation of administration officials.
On Tuesday, Obama spokesman Jay Carney said the president first learned of the AP case through press reports.