New Orleans Mother's Day attack: Brothers arrested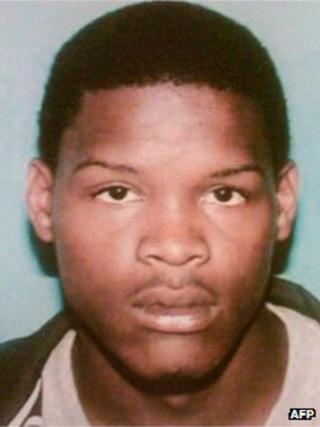 Police in the US city of New Orleans have arrested two brothers over the shooting at a Mother's Day parade that injured 20, including two children.
Shawn Scott, 24, was arrested on Thursday, and his brother Akein Scott, 19, was taken into custody on Wednesday night, police said.
Both are charged with 20 counts of attempted murder.
Police suspect the brothers were involved in a neighbourhood gang and had planned the attack together.
Akein Scott was said to have been identified from CCTV footage of the attack.
The area where the shooting occurred is a poor neighbourhood still recovering from the devastation left by Hurricane Katrina in 2005.
'Unnatural and unacceptable'
At a news conference near the shooting site on Thursday, Mayor Mitch Landrieu accused the suspects of "callously shooting into crowds of hundreds of citizens".
"The culture of violence is unnatural and unacceptable," Mr Landrieu said.
Police have also arrested four people ranging in age from 19 to 32, and charged them with obstruction of justice and being accessories to murder after the fact.
Officials had been searching for Akein Scott since identifying him as a suspect on Monday.
On Sunday, police were interspersed with marchers in the procession called a second line parade.
The incident happened at about 14:00 local time at the intersection of Frenchmen and Villere streets.
Community celebrations in the city known as the Big Easy have been interrupted by gun violence in the past.
Five people were wounded in a drive-by shooting in January after a Martin Luther King Day parade, while four were injured when gunfire rang out after an argument in the French Quarter in the days leading up to Mardi Gras.
The Louisiana city's police force is trying to overcome decades of community mistrust to tackle a high rate of gun crime.
The New Orleans Police Department has some 1,200 officers, about 300 short of its peak staffing level.
US justice officials have previously found the department had excessively used force.