Canada liquor workers threaten strike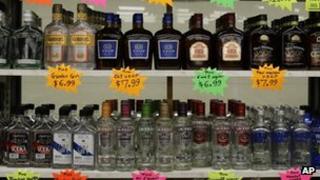 A threatened strike by liquor shop workers in the Canadian province of Ontario has drinkers scrambling to find other sources of alcohol.
Beginning on Friday, workers could picket over issues facing part-time and temporary employees, their union says.
Almost all spirits are sold by stores operated by the province, but beer and wine is available elsewhere.
Two-thirds of liquor authority employees have no guaranteed hours and few benefits, the union says.
The Liquor Control Board of Ontario (LCBO) operates 630 shops in Canada's most populous province and a possible strike on Friday would be the first in the board's history.
The Ontario Public Service Employees Union (OPSEU), which represents 7,000 LCBO workers, has set a deadline for midnight on Friday.
"Nobody wants a strike but we are prepared if we have to - and yes there will be pickets," said spokesman Craig Hadley.
Most part-time or temporary workers make less than 26,000 Canadian dollars ($25,525; £17,000) per year but LCBO turned a profit of 1.6bn Canadian dollars last year, OPSEU said in a statement.
An LCBO spokeswoman said the company did have contingency plans to continue offering some service if the strike went ahead, CBC News reported.