Oklahoma tornado: Survivors' stories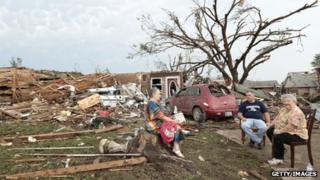 A huge tornado has ripped through the suburbs of Oklahoma City, flattening at least two schools and claiming dozens of lives. Residents of Moore, in the south of the metropolitan area, recall their terror as the twister passed overhead.
Search and rescue crews worked through the night to sift through the rubble and debris in the city of Moore.
Many of the people pulled from the wreckage were children. Two schools were destroyed when one of the most deadly tornadoes in America's history struck on Monday afternoon.
Residents of Moore and nearby areas have been describing the third tornado to hit the city since 1999.
'Don't die with me'
Teacher Rhonda Crosswhite sheltered six sobbing students beneath her body inside a toilet cubicle at Plaza Towers Elementary School.
"I never thought I was going to die. The whole time I just kept screaming to them, 'Quit worrying, we're fine, we're fine, we're fine,'" Ms Crosswhite told NBC's Today show.
"One of my little boys just said, he just kept saying, 'I love you, I love you, please don't die with me, please don't die with me.'"
The sixth-grade teacher said a few prayers as she reassured the children.
She was reunited with one of them, fourth grader Damian Britton, live on the Today Show.
His mother joined the two in an embrace and added: "Thank you so much. Thank you all the teachers that were out there."
'A war zone'
"Shock is probably the closest descriptive word. It looks like a war zone," said Sam Riojas.
"I mean, you drive into Moore, and none of the buildings that you're used to seeing are there anymore.
"Neighbours just... they don't have homes anymore. People are just in a state, they're just frantic.
"I mean, that's the best way I can put it. People were screaming when I got here, they were yelling out for names."
Mr Riojas said his own house was one of the few still standing - the tornado blew out all the windows and tore up part of the roof.
'Total darkness'
"I was working near the airport, about four miles from where the tornado crossed the river and into Moore," said Jerry, in an email to the BBC. He lives in Edmond, about 30 miles north of Moore.
"In about 10 minutes the skies just erupted. I called my wife and told her to pick up the children at school. The next thing I know I'm getting pounded by golf ball-sized hail against my truck and then the sirens started for the tornado warning. It was terrifying.
"It was due south of me. The hail subsided and as I got out of my truck and looked towards the south, it was total darkness. I heard what I thought was a constant rumbling of thunder. It was the sound of the tornado.
"A giant whhhhrrrr and gnashing of metal, debris, and concrete as it ripped across the town of Moore. I'll never forget that sound. Needless to say I made it home and held onto my children and wife. A terrible day."
'The street is gone'
Kelcy Trowbridge described to the New York Times how she, her husband and their three young children took shelter in a neighbour's cellar. They could hear debris smashing against the cellar door.
When they came out, they found their home flattened and their car upside down, hurled down the street.
"My neighbourhood is gone. It's flattened. Demolished. The street is gone. The next block over, it's in pieces," she told the paper.
When Ms Trowbridge's husband began sifting through the debris, he suddenly stopped and told his wife to call the police.
He had found the body of a little girl, about two- or three-years old, she said.
"He knew she was already gone. When the police got there, he just bawled."
'A low roar'
Chris Calvert described how he saw the cloud approaching from about a mile away.
"I was close enough to hear it,'' he said. "It was just a low roar, and you could see the debris, like pieces of shingles and insulation and stuff like that, rotating around it.''
His home was about a mile off the tornado's path, but it was still covered with debris.
In his yard, he found a picture of a small girl sitting on the lap of Father Christmas.
Dog reunion
Pensioner Barbara Garcia was sitting amid the debris of her home as she described to a television crew from KWTV how she endured the tornado.
She said her "game plan" was "sitting on the stool, holding my dog". But they became separated.
"I never lost consciousness, and I hollered for my little dog, and he didn't answer, so I know he's in here somewhere."
At that point, one of the crew alerted Ms Garcia to her pet's head poking out from the bricks and mangled metal.
She was helped by the crew to release her trapped, dark-grey dog, Toto.
"Well, I thought God just answered one prayer to let me be OK," she said as she stroked the pet. "But he answered both of them, because this was my second prayer."
'Scariest thing'
Linda Preston told local news website News OK that she and her family were home when the tornado struck.
"It was the scariest thing we ever went through. We could hear things hitting and there were two holes in the ceiling.
"We waited a little bit after things had calmed down. The guys had to try to get everything out of the way before we could even climb out."