Montreal residents warned to boil drinking water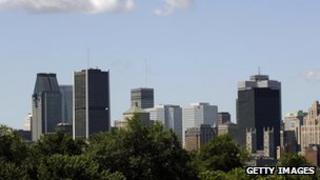 More than one million Montreal residents must boil drinking and cooking water after a mishap at a water treatment plant, officials have warned.
Water officials say residents of virtually all of Canada's second largest city should boil their water for the next 24 hours.
Officials described the advisory as a precautionary measure while they await results of bacteria tests.
The water treatment plant in question is in the midst of lengthy renovations.
About 1.3 million of Montreal's 1.8 million residents have been advised to boil water for 60 seconds before drinking it or using it for cooking, washing food and brushing teeth.
Unboiled water can be used for bathing or washing clothes, the city said.
Water officials told the Montreal Gazette the problem began during routine maintenance at the Atwater plant in which water levels in the main basin were lowered.
"For a reason we're not aware of yet, the water went down at least 30ft (10m)," Chantal Morissette, head of Montreal's water supply department, said. "It was almost emptied."
Sediment at the bottom of the tank was stirred up in the low water levels and then distributed through the water system, prompting the first reports of murky water.